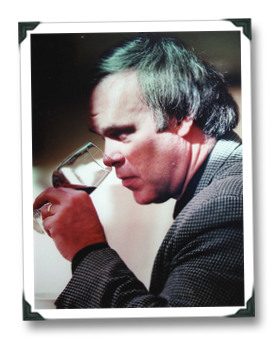 For our latest 1WineDude.com interview, I'm tasked with the difficult job of introducing someone who requires no introduction (at least, not when it comes to the world of fine wine).
Today's interview guest, Robert Parker, is arguably the most famous wine critic on the planet; what is beyond argument is that he is the most influential wine critic on the planet – his scores are capable of sending a wine's market value into the stratosphere.  He is the founder of the consumer wine review publication The Wine Advocate, which, not unlike a blog, began as a self-published journal – it now has tens of thousands of subscribers in dozens of countries.  Parker is widely regarded as one of the world's leading authorities on the wines of Bordeaux, and his ability to taste (and recall past tastings of) wines is the stuff of legend.
Parker's influence and fame at times makes him a polarizing figure (you knew this part was coming, right?).  He established the "love-it-or-loathe-it" 100-point wine scoring review scale. His preference for wines with bold, fruit-forward profiles has, some have argued, divided the wine world into fractions of those who religiously follow Parker's palate, and those who religiously avoid it.  The divisive effects of his influence have been chronicled in both books and in film.
He has been described as a great equalizer of wine, liberating it from an era of poor quality offerings pushed onto the market at unfairly high prices; he has also been vilified as creating a market of "international style" wines crafted by winemakers attempting to solicit high scores from his reviews, at the expense of regional uniqueness and a sense of place in their wines.
Mr. Parker was a gracious interviewee, so much so that he has tied author Kathryn Borel for the quickest response to interview questions that I've ever received.  He even expressed concern that his responses might be a bit dull for the 1WD readers – "thanks for giving me an opportunity to respond to your questions. I'll try and keep my answers as succinct as possible so your readers don't nod off while reading them."
As the Wayne's World guys might put it – As if!
Below, you will find a fairly intimate glimpse into Mr. Parker's views on wine blogging, Bordeaux en primeur prices, my friends Gary Vaynerchuk and Tyler Colman, the booming Asian wine consumer market, the Big Lebowski (yes, seriously), and his own influence and professional legacy. It is very likely a side of Robert Parker that few in the on-line wine world have yet seen.
I'm grateful to Mr. Parker for taking the time and opportunity for what might be his first-ever wine blog interview. I'm equally grateful to Jeff Lefevere of GoodGrape.com, who acted as contributing editor on the interview questions.
Ok – appetizers are over; let's get to the meat-and-potatoes!…