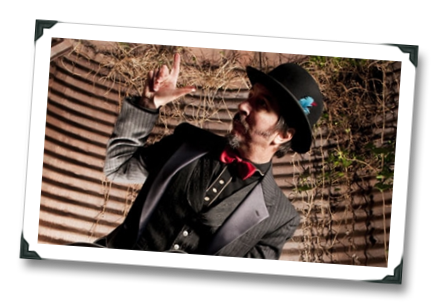 I have, quite clearly, met my match when it comes to quirky wine interviews.
His name is Les Claypool, and he's probably most famous for fronting the talented and popular hard rock band Primus (who are on tour this Summer).
As a (wannabe) bassist (going on 20 years) myself, I've often found Les' music and technical proficiency inspiring.  I recall being an undergrad in university and hearing Primus' live album Suck On This! for the first time; "this kicks ass," I thought, "but I doubt anybody but bass geeks like me would get into this stuff."  Thankfully for millions of music fans everywhere, my prediction was very, very wrong.  Primus went on to release two Platinum and one Gold album, achieving impressive chart success with their singles and wildly eccentric videos.
What many people might not know about Les is that he's also been a filmmaker, as well as the driving force behind multiple successful and stylistically diverse rock bands such as Oysterhead and Flying Flog Brigade. He has, somehow, also managed to find time to create a wine brand – Claypool Cellars, which produces a promising and very enjoyable Russian River Pinot Noir ("Purple Pachyderm") with help from Shad Chappell at Vinify Wine Services.  Les' description of the `07 Pinot:
"We've ended up with a California Pinot with a fairly low alcohol content (13.9%), strong color, and good extraction that gives complexity without being overly "jammy." Coupled with a moderate amount of French oak and some whole cluster fermentation, we have a vino that sits silky in the mouth with a finish that glides away with elegant authority."
`08 was a bit of a different story, as heat in the RRV made trying to render a low alcohol Pinot much more challenging.  I tried samples of two bottlings of the 2008 Claypool Cellars Purple Pachyderm: one a Russian River Valley Pinot Noir (307 cases, about $42), the other an RRV Pinot from Hurst Vineyard (110 cases).  Both are big and expressive, just like Les' music; while some might shy away from the boozy palate on both of these wines (each is around 14.4% abv), few would deny that the red berry fruit on the nose packs a substantial amount of depth and intensity while deftly avoiding the dreaded "jar of red jam" territory, despite the heat.
I managed to catch up with Les via email during a break in Primus' current tour, to talk shop on the wine front. I still count Suck On This! and Tales From The Punchbowl among my favorite albums – and after 20 years of bass playing, still have trouble copping Les' intricate, driving and chord-driven bass lines (though I'm making good progress on "Southbound Pachyderm"…) – so this interview was a particularly fun and inspiring one for me.  I think you'll find it fun as well, especially after witnessing how effortlessly and eloquently Les one-ups me in the quirkiness department.
Enjoy!…