Last week, I was quoted in a very interesting article by Eric Asimov in the New York Times, based on a conversation that Eric and I had about restaurant sommeliers taking a small sip of their customers' wines to ensure that they are sound prior to being served.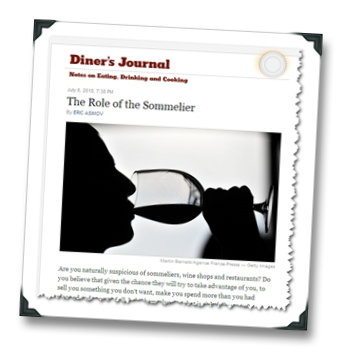 Many of you out there (at least, the ones who sent me all of the e-mail) were surprised that I hadn't encountered the practice before.  Based on those e-mails (the ones in which I wasn't called an idiot, anyway), the practice seems much more common for patrons in Europe than for those of us here Stateside.
Also, for those readers I should note that I'm a born-and-bred Mid-Atlantic U.S. boy, which means I'm naturally suspicious and pissed off until you do something nice for me, after which I'm convinced that it's a ruse plotted to rip me off somehow and I'm really pissed-off at you.
Anyway, my quotes were (of course) part of a longer conversation that Eric understandably didn't include in full in the article; so I thought the topic worth revisiting so I could expand a bit on the view I represented in that conversation…