This is a tourney several years in the making.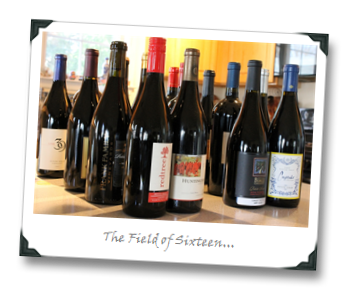 I first had the idea of having a "Taste-Off" – a March Madness tournament-style tasting of sixteen wines, randomly matched against one another, and proceeding in a single-elimination tasting against one another over the same day until one is crowned "champion"– back in 2008.
It's taken me this long to get around to it, inspired in part by the facts that a) we've had an exciting NCAA tourney this year, b) simply having a free day in which to do it, and c) having the personal realization that I had sixteen different California Petite Sirah samples (none of the poor things knowing what was in store for them) sitting in the bowels of my cellar and therefore could actually pull it off. Also, I had a pretty sh*tty week and just needed a fun escape.
Why Petite Sirah? It just felt right. It's a divisive wine, usually eliciting either intense devotion or complete hatred hatred – and as a result, it's a variety that tends to get less press coverage than a Xylophonist convention.
How it went down: Sixteen different CA Petite Sirah wines were randomly assigned numbers, which were then randomly matched into a field of sixteen, single-elimination tourney bracket-style. The winner of each bracket went on to face the winner of the next, with the losers being eliminated. This means that a) it's possible for mismatches, just like in a real tournament – and there certainly were some of those! – and b) some really good wines didn't get to compete against one another. A wine advanced if, at the moments I tasted it, it seemed a better, more complete, well-crafted, more complex wine; and yes, that means that a wine not tasting well on the given day was at a disadvantage – no different than any other wine competition (or competition of any kind, for that matter!).
That's the nature of single-elimination tourneys, people: it's not entirely fair; too friggin' bad; deal with it and let's have some fun!
Over the course of this week, I'm going to feature the results of the tourney, revealing the "champion" on Thursday and highlighting the two finalists. Mini-reviews will post this coming Monday and will include any wine in the lineup not already reviewed in the minis. So if you're not into PS, this is not  the week for you to be checking out 1WD. If you're curious or already a PS lover, then read on!…