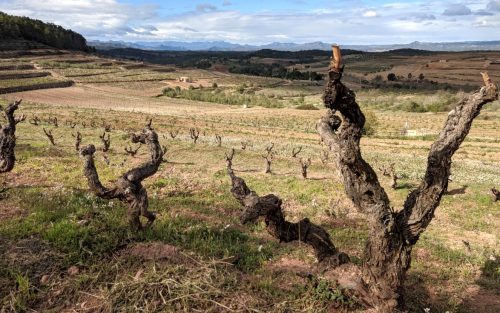 Albert Jané knows how to work a wine media crowd.
If you want to quickly win over such a group of wine geeks and influencers, you would have had access to a minor clinic in such powers of persuasion had you tagged along during my recent media tour visit to Jané's Acústic Cellar, in the Montsant town of Marçà.
The script went something like this:
Take them to your gorgeous vineyard, replete with panoramic views of the mountainous Catalan countryside; show off your small two hectare lot of 40- to 80-year-old bush-trained Garnatxa and Samsó (a.k.a. Carignan) vines; say things like "the best barrel is the one you don't taste," and "the best winemakers here are the vineyards;" and gleefully pour your vinous wares, which happen to be excellent. Oh, and also serve delicious Spanish cheese.
Anyway…
Jané describes his wines as "unplugged" (hence the yeah-yeah-I-get-it cleverness of his company moniker), and it's a fitting term for a winemaking style that seeks to showcase the concentrated, small clusters/berries of the organic fruit that Acústic's old vines produce. Jané's approach is relatively old school, favoring hand-harvesting and minimal oak treatment; which seems fitting, considering that his grandfather was a winemaker, his cellar is an old textile factory, and much of the exclusively indigenous vines in his vineyard were planted in the 1930s. Here's a look at the latest quartet playing the Acústic Cellars tune…