Full disclosure: Charlie Olken, the driving force behind The Connoisseurs' Guide to California Wine, is my dad.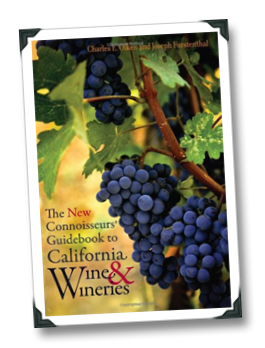 Not my biological father, mind you.  In fact, he's not related to me in any way; he's not my adoptive father, either.
It happened back in February: I was sitting at one of the evening dinner events at the 2010 Professional Wine Writers Symposium, and was talking about how I thought Charlie was awesome and that I'd recently commented on another website that I wish Charlie was my dad.  Then, someone pointed out that Charlie was sitting about two places to my right, and Charlie kindly agreed to pseudo-adopt me on the spot.  Highlight of the trip for me, in a lot of ways.
Charlie has a new version of his Guidebook to California Wine (The New Connoisseurs' Guidebook to California Wine and Wineries, of which I received a review copy), so we are (and by "we are" I mean "I am") extending the theme of publication reviews this week by spinning some yarn about Charlie's new book, co-written with Joseph Furstenthal (the book, that is, not this review).
The first thing I noticed about The New Connoisseurs' Guidebook is that it's mildly addictive.
What I mean is, it offers up thoughts on the history and products almost 500 California wineries, which invariably leads to the following sequence of events (for me, anyway):
"I wonder if they cover [insert winery name here]?"

Flip-flip-flip-flip-flip.

Read commentary.

"Hmmm.  I never knew that about [insert winery name here].  Wonder what they think of [such-and-such-winery]'s more recent releases."

Flip-flip-flip-flip-flip.
You get the idea. The New Connoisseurs' Guidebook is like searching the Internet on CA wineries, only in miniature (and in print) and guided by the expertise of people who have covered the winemaking in the state since most of us wine bloggers were eight year old kids drinking Coke from glass bottles…