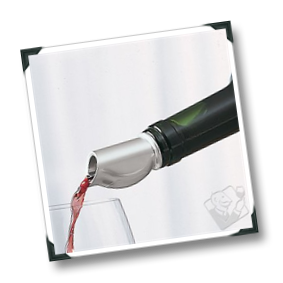 If you've spent more than 0.7 seconds searching the Internet for wine-related products and accessories, you will already no doubt be familiar with aerators, those versatile solutions for modern wine living that promise to mellow and round-out your wine by exposing it to copious amounts of air.  This is supposedly the same as decanting a wine for an extended period of time, but claiming to achieve the results much more quickly (in seconds vs. hours).
Decanting works wonders on many an old fine red wine, and often on less fine younger wines, by increasing the amount of surface area of a wine exposed to air. Air then works its chemical miracles to help release aroma compounds in the wine, essentially speeding up the aging process, which for fine red wine more-or-less follows a curve over time from tight/harsh to yummy to vinegar.
Notice I said "fine red wine" and not "red wine."  Most wine on the market doesn't throw sediment as it ages, and is meant for early enjoyment, and rarely needs decanting to soften it up.
Anyway, I had an opportunity to dive into the sample box and come up with two products that claim to aid in aeration.
About time for another wine product smackdown, methinks!…