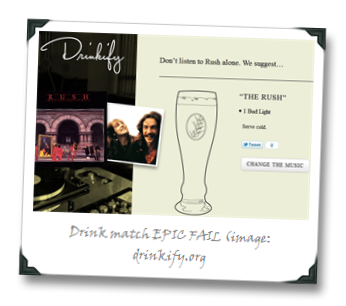 I've been playing around with on-line music-and-cocktails-matching entertainment app Drinkify, and have concluded via completely non-scientific means that it is almost a total failure (at least, when it comes to one pairing in particular).
It's fun, don't get me wrong; it's just that it offers me the booze-pairing "beer" (I use that term loosely) suggestion of Bud Light (!) when I tell it that I'm listening to RUSH – and that, my friends, is a FAILure so epic in size that its scope can only be measured in light years.
While Drinkify might be fun, the pairing of music with imbibing, at least when it comes to wine, isn't simply a laughing matter: according to a story published on wired.com earlier this month, a recent study (led by Adrian North of Heriot-Watt University), showed some rather scientific evidence that our perception of a wine's qualities is measurably influenced by whatever music happens to be playing in the background when we drink it.
And I, for one, think that odd bit of news is actually pretty… awesome…