Two words: Jamon Galleria.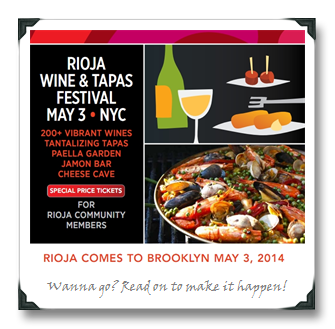 That's just one of the culinary delights that you can experience at the upcoming Rioja Week Tapas Fest and Grand Tasting taking place at Weylin B. Seymour's in Brooklyn, NY on Saturday, May 3, 2014 at 1PM ET. The event will also feature a Casa de Tapas, a Paella and Vino Garden, a Cheese Cave, and something like 200 Rioja wines.
And three of you are going to get to go for free. Who loves ya, baby?!?
I'm excited to tell you that this month I've got a (paying) gig with Rioja Wines in which I will be taking part in Tapas Fest in NYC (mostly as a panel moderator for both geekified and introduction-style panel sessions about Rioja wine) as well as hosting a #RiojaBuzz Tweet Chat on April 24th at 8:30pm EST/5:30pm PST (during which we'll start tasting through some Rioja goodness in lip-smacking anticipation of the NYC event).
I'll naturally not be formally reviewing any Rioja juice here on 1WD until after that gig has ended. And at this point I'm not sure if I'm in it more for the excitement of how awesome this NYC event is going to be (I've seen the insider details on the culinary coolness that will be on hand, and my keyboard is wet from the Pavlovian salivation responses), the fact that I am getting paid, or just the chance to taste Rioja jamon again. Anyway, check out the crazy lineup for this event and you'll see what I mean.
Now, me being me, I kind of forced my hand with the amiable Rioja Wine folks in order to get some of you at this event (you know, for moral support and all that)! So three lucky 1WD readers will get two tickets each to the Tapas Fest on May 3 at 1PM ET, along with a groovy gift bag of food-related goodies (see inset pic, total value about $150).
Wanna shot at winning? Here's the skinny…