Last week, I attended an on-line video conference / wine tasting that involved a handful of wine bloggers from around the U.S., as well as eight of Chile's most talented young winemakers (congregated in Santiago), moderated by Wines of Chile in N.Y.  While I'm used to this kind of cross-time-zone, cross-cultural meeting (as well as utilizing video and conference call across the same) from working in IT, I had no idea how this would transpire in the context of wine.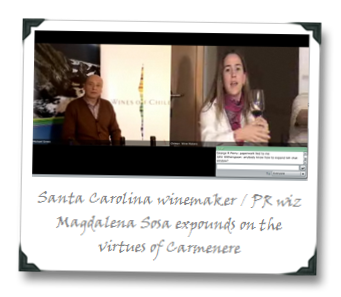 And I've never tasted eight samples of Chilean Carmenere wines on an IT conference call.
So… how did it go?
I'm happy to report that I found the event to be great fun and quite well executed.  The technology worked well and I only found minor cavils – like wanting the in-conference chat to work like twitter, preferably integrated with twitter – which I think speaks to the professionalism and quality of the event overall if those are my only complaints.
Last week, I'd written that this event could prove to be a seminal moment in my wine-lovin' days, as it focused almost exclusively on Carmenere, a grape with which I've had a troubled history.  In summary, I've been critical of Chile's ability to deliver on the potential of the grape as (in my experience) they'd yet to get pyrazine (which imparts 'green' aromas of bell pepper and pine) truly under control and balanced with the dark fruit flavors of the grape.
I was placing (perhaps unjustifiably) a lot of pressure on this event, as I was expecting (perhaps justifiably) that Wines of Chile would 'go big' and bring some heavy hitters to the party – i.e., really show what Chile was capable of when it comes to Carmenere.
So… how were the wines?
In summary: a mixed bag…