Last month, I was away in Mendoza playing Team America as an International judge in the 2013 Argentina Wine Awards. The AWAs were followed by a seminar that centered on the topic of how to reach "next generation" (Millennial) wine consumers. Today, I'm going to focus on the Trophy results of the AWAs – but believe me, a lot more is coming on the seminar and the topic of Millennial wine drinkers (including thoughts on the wines that my co-judges believed appealed to those next gen drinkers) later.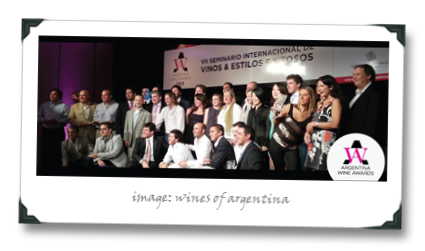 I've two main takeaways from the 2013 AWAs, which are organized by Wines of Argentina (who footed the bill for my participation) and Hunt & Cody (a UK-based team consisting of MW Jane Hunt and Tina Cody):
1) I was self-conscious just to be in the same room as the rest of the judges, all of whom I felt outranked me in terms of tasting prowess, winemaking knowledge and industry accomplishments (I feel privileged to have made fast friends with many of them), and
2) If you try to taste thirteen Gold Medal winning Malbecs in only a few minutes and rank them in order of preference so that a Trophy winner can be determined, you will destroy your palate's ability to taste anything (including coffee, tea, air, water and, I suspect, crude oil) for several minutes afterward.
The entire process of judging was incredibly fun (despite being shut up in a large conference room in the Diplomatic hotel while the sun was raging all Summer-style outside our windows), and enjoyed seeing the different tolerances we all had as tasters. For example, the UK judges putting up with more Brett (having ben schooled on Old World / Western European wines), the Chinese judge having a higher tolerance for oxidation (because so much international wine reaches her only after it's been impacted by oxygen), the Argentine winemaking judges almost universally accepting high levels of VA (sought after to smooth out the mouthfeel of those tersely tannic Malbecs).
As for yours truly, receiving boatloads of California samples has taken its toll: I clearly had higher tolerances for oak influences and riper fruits. Sigh…