One of the interesting things to which the Wines of Argentina folks subject you as a judge in the Argentina Wine Awards (aside from tasting enough tannic Malbecs in one blind awards flight that you can no longer feel your gums, or taking you horse-wrangling in the Andes) is a seminar in which you're one of the featured speakers.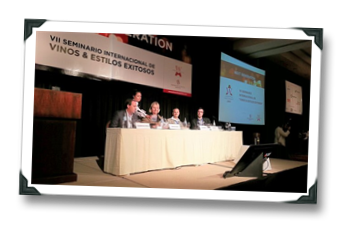 For the 2013 AWAs, the seminar topic was "Wines for the Next Generation" (speaking largely about Millennials, in this case), and our group of international judges was asked to choose a wine that we felt represented what the next gen wine consumers are drinking in our respective markets. And so we sat on stage in panels of two or three judges, with an Argentine winemaker chairing the discussion as we talked about the wines, and our markets.
I want to tell you about each of the wines that my fellow judges and I picked (a task with which some of you helped me, by the way!). But before I do that, I want to tell you what the majority of our group of judges said about wines that appeal to Millennials.
And it's easy to do, despite the fact that as judges we hailed from a somewhat dizzying array of backgrounds (new and traditional media, wine service, winemaking, and other fields), and despite the fact that as an ensemble we hailed from Italy, Brazil, the UK, Australia, Spain, Korea, China, Canada, Mexico, the U.S. and Switzerland. Not exactly people all cut from the same cloth – wine had brought us together, and the love of it was the only common denominator between we hailed (aside form us all being humans, I mean).
It's easy to do because we almost all said exactly the same thing. When the last of us to speak at the seminar, UK Master Sommelier Laura Rhys, presented a summary slide titled "What The New Generation Wants From A Wine" it echoed so closely the previous sentiments of 90% of our collective speeches and presentations that I later asked her if she'd authored it on the fly after seeing the rest of us speak (only because that's precisely what I would've done myself). "No!" she exclaimed, I think taking my question incorrectly at first as an accusation instead of an expression of how impressed I was by her slide deck. "I wrote that up ages ago!"
If accomplished professionals in an area of business, hailing from totally different backgrounds, separately converge to similar conclusions on a topic, then you probably ought to listen to what they have to say if you're at all interested in that same business (in this case, selling vino)…