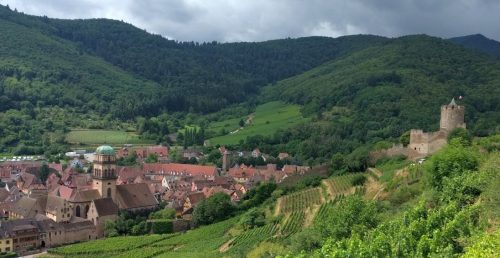 When you're within spitting distance of Kayserberg (quite literally the cutest town in France, an honor it was officially awarded in 2017), amid the picturesque shadows of a castle that dates back to the fourteenth Century (and in which harvests were celebrated), and regularly run into ruins from the early 700s AD, you might justifiably consider yourself in a sort of Western European daydream-like fantasy land. Just add fairies and elves!
While that is, indeed, the present situation of Alsace's Schlossberg Grand Cru vineyard site and the sixty-some-odd producers who farm it (a spot I visited as part of a media jaunt earlier this year), that present situation belies a more, well, aggressive historical backdrop.
This granitic area of northeastern France has seen a revolving door of historical overlords, including the Romans, Germans, and the French. And yes, Schlossberg has the distinction of being awarded on of Alsace's first Grand Cru classifications in 1975, but that was almost fifty years later than planned (they attempted it first in 1928, but things got sidetracked due to a World War). Actually, it's almost 500 years late, considering that the area's vines have been known as having serious vinous potential since the 1400s, and that the area exported twice as much wine in the Middle Ages as it does now.
Also consider that, from a farming perspective, you're not getting much more than grapes here. The area sits on steep slopes rising up to almost 400 meters, and (thanks to the Vosges mountains) sees less than 500 millimeters of rainfall per year (which about three times less than Bordeaux). Alsace sits on the largest underground water reserve in the country, but irrigation isn't permitted, so the vines have to work their roots down deep to get a drink.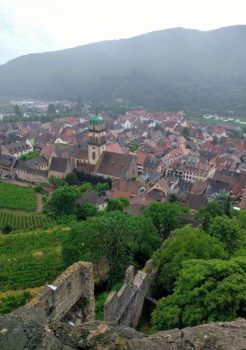 The soil in Schlossberg has high pH levels, and so requires calcium to prevent toxicity, and its diversity is a testament to the violence of the ancient Devonian forces that formed it. Also, you need dry stone terraces (the work of Italian immigrants hired by regional monks in the Middle Ages) to keep everything in place, and they are, to put it mildly, a pain in the ass to maintain. Oh, and the climate is semi-continental, which means they get nearly the full extremes in seasonal variation, and the subsequent farming headache potential.
Finally, we should include the political and cultural vagaries that come with producing consumables in a place that has changed country of ownership more than a few times. Alsace's major market, historically, has been Germany, since the French kind of considered Alsace as French-but-maybe-not-really.
How does all of this impact the Rieslings crafted from Schlossberg's soils? More than one of the wine producers with whom I met described their Riesling as "thin, delicate, and like a marathon man." You'll understand what they mean in a minute or two…