LODI ZINFANDEL ATTACKS TOKYO!
Crowds flee for their lives as "Gluttzilla" menace destroys theme park.
Tokyo defenses "only stir its already considerable anger."
July 8th, 2009 – Tokyo
Inebriated Press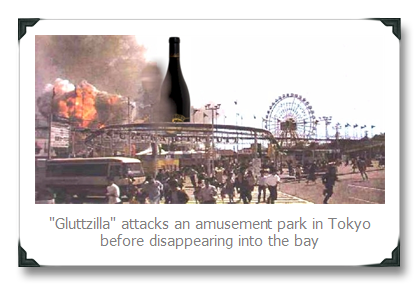 A powerfully alcoholic wine emerged from the basement depths of downtown Tokyo wine and liquor shop Tanakaya today, breathing fire and staging a level of destruction not seen in the city since 1954, when the lizard-like menace Godzilla attacked the city and died (along with all other nearby sea life) under mysterious circumstances in Tokyo Bay, reports the IP (Inebriated Press).
Hundreds of local residents are reported missing, and damage to city buildings, public transportation systems, and electrical infrastructure reportedly will "easily reach into the several billions [of dollars]" said  Japanese Defense Minister Hamada.
The rogue wine has been positively identified as the powerful and highly potent 2006 vintage of "Gluttony" Lodi Zinfandel from California wine producer Michael~David.  It's unclear at this time if the monstrous wine bottle was angrily disturbed from its slumber by the passing of trains at nearby Mejiro station, or if it became enraged at receiving a 77 point rating in the June 30 2009 issue of Wine Spectator.
What is clear is that at approximately 1:35 PM Tokyo time today, the enormous Gluttony Zinfandel emerged from Tanakaya and began to destroy nearly everything in its wake, leveling buildings with ease and burning down an amusement part en route to the bay nearby, where "Gluttzilla" (as it has been dubbed by the local press) seemingly took refuge beneath the waves and has not been seen since…