I do this because… well, honestly because I feel obligated.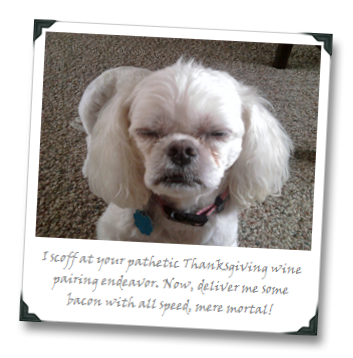 You know that feeling you get in undergrad where you have a term paper with about two days before it's due and you haven't started it yet but you have to do it? The same feeling that marked the advent of the first day of school after Sumer vacation, or harkens the impending ring of the Monday-morning alarm after a night of overdoing it while watching Sunday Night Football?
I have that feeling.
Because I need to do the annual Thanksgiving holiday wine pairing article.
It's my belief that the standard holiday wine pairing article is hackneyed and has, for most intents and purposes, jumped the shark. Why? Because no wine critic or educator knows your personal taste preferences nor do they know the ingredients of your Aunt's famous casserole, which, after all, is only famous within your family and her glee club. So you're far, far, far better served by going to a wine shop that you trust, telling the folks there what you like (here's some help on figuring that out) and what food your serving, and getting their recommendations.
Your personal preferences always trump all, but at holiday time we're rarely buying just for ourselves – and there are indeed some food & wine matchups that do not, in fact, match up. So while I could never give you exact holiday wine recommendations (at least, not without an exact holiday food match to go with it!), I can provide two general pieces of advice that might serve you well in narrowing down your selections…