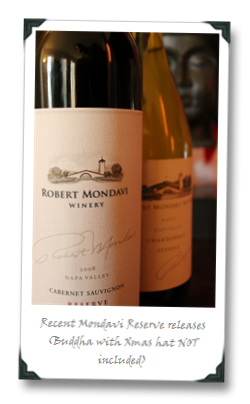 For all of my talk about not digging big-ass wines, I sure do seem to end up talking about a lot of "good" big-ass wines.
Take this past Christmas, for example.
We host some of my wife's family every third Christmas or so, as part of a rotation that has us visiting them in Florida and Washington on the other years. It's a special time for me, because Mrs. Dudette has a great extended family, full of genuinely nice people who are kind enough to put up with me over the course of several days (primarily because they want to spend time with my daughter, I suspect… but I'm quite happy to settle for the delusion that they also enjoy my company). And when we host Christmas, Mrs. Dudette cooks a gourmet meat-and-potatoes feast in honor of her late grandmother, who succumbed to Alzheimer's quite a few years ago but in her heyday apparently made a mean roast dinner.
The slow-roasted meat naturally gets me thinking about a big red, and for some reason, despite reservations, I find myself continually reaching for Mondavi Reserve wines for this holiday dinner thang. I mean, if Christmas dinner isn't when you're supposed to open up wines like these, then well the hell are you supposed to pop those corks?
I use the term "despite reservations" because, truth be told (don't you hate that phrase, by the way? I mean, it's not like I've been lying to you for years and am only now getting aroud to making statements with any veracity… ok, whatever…) I am always afraid that the Mondavi Reserve wines are going to burn me…