Being a prog music geek (actually, make that a music geek in general), we've had our fair share of literal rock star wine producer interviews here on 1WD, probably none as effortlessly entertaining as those with Primus' Les Claypool.
Claypool, along with his wife Chaney, are the proprietors of Sonoma-based Claypool Cellars, whose development I've been following (and on which I've been reporting) for several years.
With the release of the new Primus album The Desaturating Seven  (highly recommended, by the way; think of it as a mix between the group's older quirky-jam-based writing style, and the showmanship flamboyance of the more recent Primus and the Chocolate Factory) and its subsequent tour, Chaney and Les recently found themselves in Philly.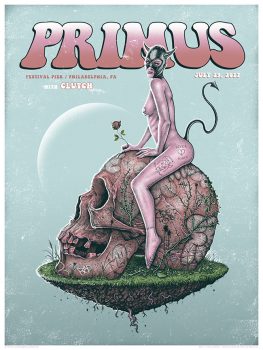 By their invitation, my drummer and I found ourselves at their Philly stop pre-show, tagging along at one of the cooler aspects of Primus' tour: fans can purchase a premium-VIP package that includes a Q&A session with the band, and (more pertinently in this case) a tasting of some of the recent Claypool Cellars offerings, with Les and Chaney (mostly the gregarious Les) taking questions and waxing philosophic about Sonoma County wines in general.
Since bringing on the Pinot Noir wunderkinder consulting winemaking duo of Ross Cobb and Katy Wilson, Claypool Cellars has gone from promising-and-devoted-side-project to ageworthy-kind-of-cult-wine levels of quality, so for me it's always a pleasure to catch up with the Claypools and their wines (funky-ass basslines or not). Here are some thoughts on their continued vinous progress (see what I did there…?)…