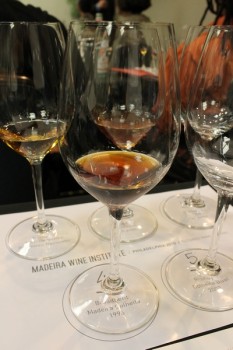 "If you're looking for the worst place in the world to make wine, Madeira would be a candidate."
Also sprach Rui Falcão, during a recent tasting/masterclass for the media in Philly, hosted by the Madeira Wine Institute.
You see, this is why I love Madeira with a passion bordering on unreasonableness. And the border is quite close. And porous. It's not a style of wine that could be planned or designed; it had to evolve. It's the wine world's version of the triumph of evolution over intelligent design. Well, that and the fact that it's responsible for what might have been the single most interesting wine to ever get processed by my liver.
Falcão's talk on the wines of Madeira was fascinating in its highlights of just how absurd Maderia wine is, and how f*cking lucky we wine geeks are to have it.
For starters, the raw material seems… well… underwhelming.
Compared to Champagne, the base wines for Madeira are "truly awful," according to Falcão; these are wines that are obnoxiously high in acids, and laughably low in alcohol by volume. But of course, they then become "something extraordinary. Madeira is all about how you age the wine…"