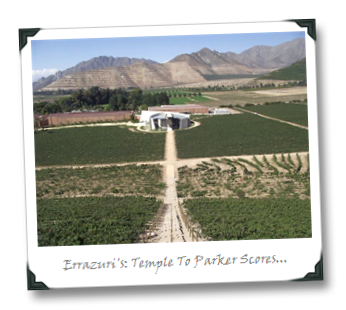 Quick quiz for you: How many times can you listen to a winery's PR guy mention Robert Parker scores before you want to shove wine barrel bungs into your ears to drown out all sound?
For me, the answer is "somewhere around 25 times," which is about the amount I endured in the impressive underground barrel storage area of Errazuriz during my recent visit to Chile. I certainly don't blame their PR for dousing me with the Robert Parker score hose during my visit – Errazuriz are clearly (and justifiably) proud of the accolades that their wines have received; they've been at the production of high-end, "icon" wines longer than just about anybody else in Chile, after all.  But… what I had a difficult time with was the relentlessness with which that stream of scores was trained at my poor, unsuspecting ears.
God knows I don't hate Parker, and I don't hate wine scores (I find them very limiting, and rife for misuse, but don't hate them).  While I find Parker's palate prefers wines that, to me, come off a bit on the brutish side (and quite a few of Errazuriz's releases fall into that category), I'm sure plenty of people who like the higher-scoring Parker selections likely find my highly-rated selections on the tepid, shy side.
All further proof that you owe it to yourself to learn your own taste preferences before following the advice of critics too closely, I suppose.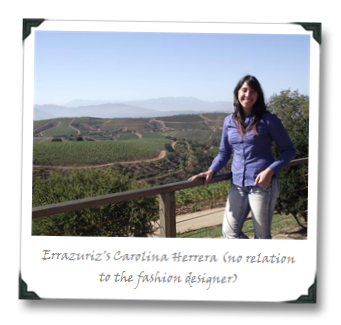 Anyway… back to the cellar of PR pain…
I actually tried to derail said PR person by mentioning (when we were discussing Bordeaux wine prices versus those of Chile's finest reds) that I'd interviewed Parker fairly recently.  I figured what the hell, maybe telling him I'd had contact with Parker would at least change the context of the current discussion about Parker.  Nope – that tactic had about the same effect as trying to stop a charging elephant with a grade-school-classroom-grade spitball.  So I turned it into a learning opportunity, and the lesson was this:
It wasn't helping the oppressive vibe any that day that the icon winery at Errazuriz is impressively imposing in its starkness, or that the barrel rooms have brick and calcareous rock that measures up to two and a half inches thick in some places – while good for withstanding Chile's earthquakes, the whole thing came off as being a bit too overwhelming, and it all felt just a tad old school.
Quite a marked contrast to the experience I had just a few hours earlier when visiting Errazuriz's western vineyard location, the gorgeous Chilhue Manzanar ("seagull's place" in Mapudungun, the language of the region's indigenous Mapuche people) 120 km northwest of Santiago, and mere 12 km from the Pacific ocean…