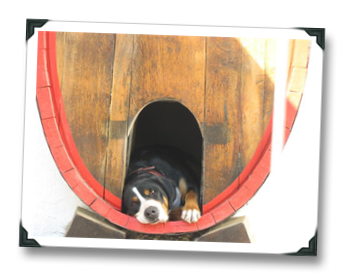 Personally speaking, I don't believe in a Hell.  But if there is a hell, I imagine that it would strongly resemble US Airways Flight 703 from Frankfurt Germany to Philadelphia on May 21, 2009, sharing the back of the plane with about fifteen of the most obnoxious German airline passengers ever to assemble in one place for eight and half consecutive hours. 
And by "one place," I mean directly over seat 36C, where they poured brandy into each other's plastic cups of Coke-a-Cola and showered the passenger in between them (that's me) with spittle as they discussed their lives at an ever-increasing volume, all the while leaning heavily on the back of my seat to ensure that I achieved as little sleep as possible.
And so that's how my press junket to Germany, compliments of Destination Riesling, ended – in stark contrast to the wonderful people that I'd met (both winemakers, hosts, and fellow travelers) the four days prior to my return flight (which I've dubbed "Operation Belästigen die Amerikanischen" or "Bother the tiny American") during which I traveled through Germany's Rheinhessen, Pfalz, and Mosel winegrowing regions with four members of the press and a guide from the German Wine Institute.
My return trip aside (and even that was so comically bad that I started laughing about it already), I've returned Stateside much richer for the experience, in the level of knowledge I've gained about the state of German winemaking (much more to come on that in the next few days), the people I've met, and the intimate deep-dive tasting I've had with Riesling wines (some readers might recall that I picked a Rheinhessen sparkling Riesling Sekt as the #1 most interesting wine I'd tasted in 2008, and which convinced me beyond a doubt that Riesling is the most noble white wine grape variety, period)…