Hey, wanna talk about ethics in wine media?
Chances are, if you're in wine media, the answer is "Yes!  Please!"
If you're not in wine media, I'm willing to bet the answer is "Huh?  Who gives a sh*t?!??"  I suspect that the population breakdown looks something like this: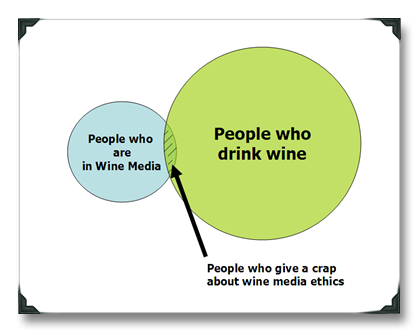 So, when I title this "Last Word…," I don't mean it's the final statement to end all navel-gazing debates when it comes to the ethics of covering the wine world.  I just mean that it's the last time I'm going to touch the topic.
I do have a vested interest in all of this ethics-debating, mind you.  I was myself the target of an ethical stone or two thrown last year, and there's been some damn fine writing lately on what constitutes ethical behavior in the world of wine coverage.  Also, in case you haven't noticed, I do write about wine.  Sometimes.  When I'm not drinking it, I mean.
I've long been an advocate of moving the wine writing ethics discussions off of wine blogs and onto other forums.  Of course, in order to make that argument, I need to dredge up the topic here on my own wine blog.  The irony…