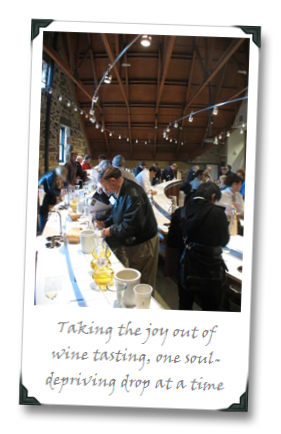 You probably could have guessed that Robert Parker isn't at high risk for becoming unemployed anytime soon without me explicitly stating it, but I thought I should clear up that I'm not after his job, in case there develops any rampant speculation on that topic in the future.
This is because I have never been, am not, and will never be a Wine Tasting Maven.
The point was driven home to me quite clearly and forcefully last week at the 2010 Premiere Napa Valley's Perspective Tasting, held on two floors (Chardonnays on the top floor, Cabs on the bottom floor) in the meticulously kept sensory analysis classrooms at The Culinary Institute of America in St. Helena.  To put it mildly, tasting three successive comparative vintages of Napa cabs and Chards, blind, lined up one after another in a mostly white, sterile environment was the equivalent of having a joy vacuum attached to my wine-loving soul and turned on full-blast.
Sterile. Quiet.  Introverted.  Not a drip of social aspect or drop of true enjoyment in sight.
I briefly contemplated the alternative activity of banging my head against the CIA's gorgeous walls of earthtoned, irregular stones, until I bled and then passed out.  As it turned out, I tasted some wines instead (more on the specific wines in a minute. Or two.).  But I didn't truly taste them – not the way I'd define 'truly tasting', anyway.
This isn't the fault of the wines, vintners, CIA, or the other tasting participants – it's my fault, without a single shred of doubt.  I am simply incapable of tasting wine – I mean, really tasting it – that analytically.  I'm sure that Parker could rip through that scenario in record time and then, just for shits and giggles, quiz himself on the merits of the 92-96 point scoring wines in the bunch 11 years later.  I watched friend and fellow symposium attendee and panelist Alder Yarrow sniff, spit, and scribble his way through every single one of the dozens of numbered carafes on display in the blind Cab tasting, as if he were a pleasant, well-poised, humanoid-shaped and purple-toothed machine.
I will never be that guy. 
And I never want to be that guy…