By now many of you will have heard that Sommelier Journal is ceasing publication.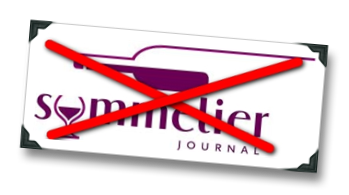 The news came to me via SJ editor David Vogels, who several days ago issued an email to those writers who had contracted work with the magazine. I happen to be one of those writers, having only weeks ago completed a featured story / regional overview on Crete, an article that was to appear in SJ's November issue. Here's what Vogels wrote in the email:
"I regret to inform you that Sommelier Journal has suspended publication. We are currently negotiating with a group that hopes to purchase the title and resume publishing the magazine at some point within the next year. In the meantime, we have arranged with Wine & Spirits Magazine to complete the terms of our current paid subscribers with the same number of issues they have remaining (whether in print or online-only)."
The news is sad for several reasons. Sommelier Journal was a bright light among wine publications over the last six years, as any long-time 1WD reader is already well aware. It was probably the only publication that catered specifically to sommeliers, beverage directors, and others in a similar vinous vein who actually cared deeply about building a taste profile for their clientele.
But among the reasons for why the shuttering of SJ's glossy covers totally sucks, the reason vying for number one in line for the suck-a-thon as far as I'm concerned is the fact that I'm now not going to be paid for the article I wrote for them. That's work I sweated and bled, based on a journey I took to the region under the auspice that I was on assignment (I've reached out to World of Fine Wine about taking it up, but they seem to move pretty slowly, unless they have something they'd like me to promote to you, of course!).
I'd like to say that this development is probably a fluke, but I think it's actually indicative of a larger issue, which is that paid content in any form is a tough sell, period. Paid content for a niche is even tougher. And as a result, building wealth by writing content about a niche topic like wine is a bit like talking about unicorns or the Easter bunny (or about Easter bunnies riding unicorns): fun to discuss, but ultimately a figment of our collective, wine-soaked imagination…