I have uncovered potentially serious evidence that could possibly refute the recent scientific evidence suggesting that drinking wine makes you smarter.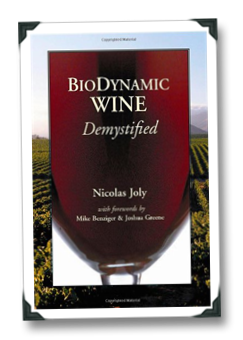 Specifically, I offer my recent experience reading Nicholas Joly's essay-like treatise on the hot-potato topic of Biodynamic viticulture,
Biodynamic Wine, Demystified
.
If this is the demystified version, I'd hate to see it mystified.
I received Biodynamic Wine, Demystified as a gift, of sorts, from the lovely (I know it doesn't sound particularly manly, but he is a lovely guy) Mike Benziger after a recent visit to his family's gorgeous biodynamically-farmed Sonoma wine estate.
Frequent 1WineDude.com readers will recall that some of Mike's comments in my video interview with him caused a bit of a stir and sparked lively comments-section discussion on the topic of soil profiles and biodynamics generally. Those discussions mirrored, in a way, the current love/hate tête-à-tête – ok, and the occasional heated exchange of invective barbs – between biodynamics' supporters and detractors.
Supports generally describe Biodynamics as having favorable impacts on the vineyard, its grapes, and the resulting wine. for example, Mike Benziger, from the comments to our interview, speaking about why Benziger employ soil analysis and biodynamic farming:
"Commercially farmed soils around the world have become biologically very similar. The use of commercial fertilizers and pesticides over the last 50+ years, combined with aggressive cultivation has homogenized much of the soil life in the topsoils worldwide. Artificial inputs reduce or terminate soil microbiology and thus eliminate points of differentiation from site to site… Vines that grow only in the topsoil that is healthy or not, usually only express the varietal character and don't express the sense of place that is associated with soils. When commercial fertilizers are overused, there's no impetus for roots to stretch down deep, because the snack bar is right on top in the topsoil. To express a more complete sense of place, vines need to have deep roots that feed deep down into the regolith and parent material."
And the counterpoint, from the comments of that same post, from an anonymous commenter who claims to also be a winemaker:
"No doubt that BD has a tremendous feel-good quality that prompts a certain amount of rationalizing. The problem I have with BD is that it is not benign. It makes claims of superiority without real evidence and presents a defense of "there are some things that science just can't reveal" as a blanket retort. It's disingenuous and bad for society in general… There are lots of us that make rational decisions about how to do what we do in the vineyard or cellar. But BD says that it doesn't matter. That all the science that has served us well in the past, in any aspect of life, is wrong. And that rationality is wrong because there's a way of looking at the universe to reveal a truer truth. You and I cannot see it, but someone can – he's a clairvoyant named Rudolf Steiner… The wine industry is enough of a dinosaur already, we certainly don't need a fairy tale to impede real progress. BD exists only in microcosm. Excess wealth and labor usually do produce good results."
After reading Biodynamic Wine, Demystified, I'm no closer to understanding which viewpoint is right than I was before I'd even heard of the book. Uh-oh…