It's with great pleasure (and after a sh*tload of hard work, not to mention wine tastings) that I reveal the 2011 version of 1WineDude.com's Most Interesting Wines Of The Year!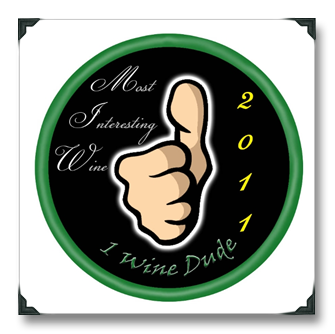 The "competition" (such as it is, though it really isn't such) was once again fierce, due to the volume of wines I tried in 2011 (up again from 2010 – considerably) and in the high level of quality of many of the wines to which I had the good fortune of being exposed through hundreds of samples, dozens of visits, blah-blah-blah.
The average price tag of the wines in this year's list is once again on the high side (around $69), but there's a price to be paid in creating a product that stirs the emotions, I suppose – the good news is that while several *very* expensive bottles are on the list, some of the best can be had for a relatively-reasonable $35-$40 per bottle.
For those of you who are new all of this and at this point are wondering what the hell I'm raving on about:
I compile this list annually. It is NOT intended to be a "best of" or "highest rating" or "circle jerk" list (no mater what the PR folks do with it!).
It is intended to be a list of arbitrarily-chosen wines that stood out, to me, as being particularly interesting for any number of reasons, not least of which are quality and complexity, and to call attention to those wines that I found most compelling this year – wines that make me want tot tackle the mountain of samples in my basement in search of another that might be somewhat like it. Actually, isn't that how most non-chemical addictions start? Ah, whatever…
These are not wines released in 2011 (though I try to favor recent releases so that you have a chance of actually trying the wines in this list), they are wines that I tasted in 2011.  Not all the wines I tasted in 2011 qualified – the wines have to be at least somewhat available so that you have a shot at trying them.
Also, the list of finalists included some wines tasted in late December 2010 (since this list is compiled in its final form in mid-December).
This year, I'm happy to also announce that the list comes complete with a new badge,  created by Mofunsun Enterprises, LLC (a.k.a. design rock-star Jeffrey Sun) who also designed the badges I use each week in my wine reviews (see above). Producers included in the list below are free to use the MIW badge in any way that they see fit, so long as it is not modified (those interested can contact me for details).
This is, by far, the most difficult content for me to compile each year. No pressure, but if you don't enjoy it then bah-humbug, you can go sit on an inappropriate wine-stopper. As in previous years, you will find some surprises in this list.I invite you to react, comment, and have fun, so long as you agree to take it for what it really is: a celebration of wine's pleasure and subjectivity.
Enjoy!…