"One not only drinks wine, one smells it, observes it, tastes it, sips it, and—one talks about it."
– King Edward VII of England
If the events of the past several days are any indication, one also enters it into wine competitions, and then one talks – and talks, and talks – about the results!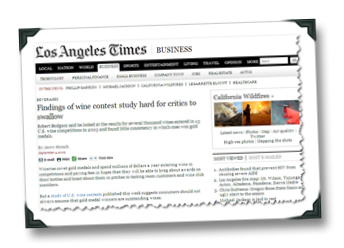 In case you've been living inside of a bottle lately, here's a recap.:
Last week, the Journal of Wine Economics issued a report that included an article by Robert T. Hodgson titled An Analysis of the Concordance Among 13 U.S. Wine Competitions.  Hodgson's report analyzed data garnered from 13 wine competitions and more-or-less concluded that the distribution of medals from those competitions showed no difference statistically then if the medals had been awarded by chance.
My personal take was that the report lacked sufficient analysis of the potential context impacting wine competitions for the data to support the conclusion drawn in the report – even if that conclusion might ultimately be true. Several people agreed and disagreed with me – which is one of the great things about blogging, after all!
The article was probably designed to kick-off discussion on the relative value of wine competitions in general, and no mater what your view of Hodgson's analysis, it would be difficult to refute it's success in doing just that.
The repercussions of the report were discussed on Dr. Vino, Vinography, and right here on 1wineDude.com – and judging by the excellent and myriad opinions on the topic that were voiced in the responses to those articles, the topic has more legs than half a glass of 16% abv Grenache.  The topic even found its way into the discussion forums on the mead website GotMead.com (seriously).
Topping it all off, on Friday the Business Section of the L.A. Times ran a story by Jerry Hirsch on the aftermath of the report, in which I was quoted.  What I liked about the L.A. times piece, aside from the fact that they spelled the name of my blog correctly (though they incorrectly stated that I am a Certified Wine Educator – I'm not, I'm a Certified Specialist of Wine, which is a different cert. but from the same organization), was that it had a slightly different take on the report  – namely, how the competition results are used after the competition is over…