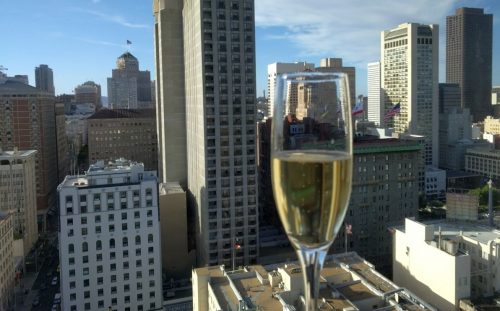 Ah, San Francisco… sourdough, trolley cars, wine competitions…
If you're so inclined, you can now browse the medal-winning results from the 2016 San Fransisco International Wine Competition in which I was fortunate enough to have taken part once again (for more details, see the 2014 and 2015 results write-ups).
Judging in that event has become one of my favorite weekends of the year, thanks in no small part to the competition's excellent staff, its professional organization, the ever-increasing quality of its wine submissions, and (primarily) the caliber and dispositions of the other judges. The judges list (present company excluded) reads like a Who's Who compendium of the people who totally rock the judging circuit in the wine biz.
Over the past few years, wine competitions in the U.S. have taken hits from their share of critical salvos. I'm happy to report that fire seems to have abated a bit. I suppose that, at this point, I could be considered a veteran of the American wine competition judging scene, and while I understand that competition circumstances are likely to encourage some inconsistency in results, I'm confident that the best competitions (in which SFIWC should undoubtedly be included) take great pains to maximize the professionalism involved, and give each wine the fairest shake possible.
As to the usefulness of such competitions, I'm like a broken record on that topic for the last few years: differentiation is important, and wine competition medals potentially differentiate you from the competition. Interestingly, I'm actually quoted on the same topic in the SFIWC 2016 results press release:
"Wine is an extremely competitive product, and being judged by industry tastemakers and receiving a top award here at the San Francisco Wine Competition can help a wine stand out amongst its peers," says wine writer, blogger and competition judge Joe Roberts.
Which begs the question: did I really use the word "amongst?" I must have, because Jarvis Communications's Sam Dependahl was using a voice recorded when he asked me for a quote about it. Dang it!…