1,200 bottles of samples in the basement, and not one Greek wine among them.
What. The. HELL?!!?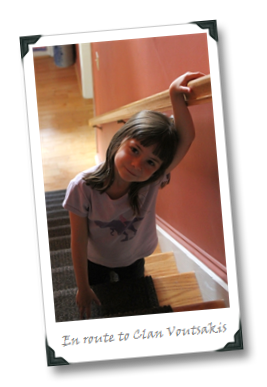 This would happen to me, since I was on the hook for bringing wine to a family dinner date with our neighbors, the Voutsakis clan, who you will have already suspected by reading their name are Greek and would be cooking homemade Greek fare.
The Voutsakis family (father, mother and three young children) is as easy-going and neighborly as they come, thankfully, and for nearly the entire day leading up to our dinner Lorelai was practically beside herself with freakish five-your-old joy at the prospect of playing for hours with their kids (anything for the only child to be able to escape grown-up talk for a few hours, right?). So we weren't going to let the severe lack of Greek wine samples deter us.
But while the Voutsakis patriarch, Frank, is a lawyer by trade, he's an aesthete by heart, and we frequently go off together on conversational tangents about politics, literature, wine, and geekish things like the relative importance and levels of raw talent between composers Mahler and Sibelius (you know… important stuff!). He's also the author of a well-received novel about life in Greece in the 1920s (The Sapphire Elixir), in which wine plays a not-unimportant role. Soooo… I wanted to make sure we got some Greek-food-friendly but also serious (and potentially seriously good) juice.
Here are the samples upon which I took my chances…