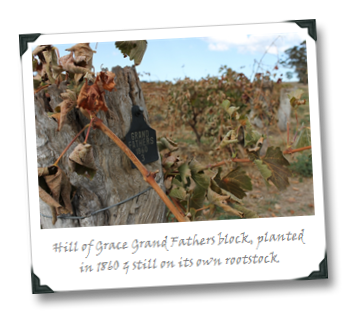 Fill a van with half a dozen Right Coast sommeliers traipsing through Australia's Eden Valley en route to Henschke, and the on-road proceedings will take on the air of a group of pre-teens after a full night's sleep and a breakfast of Sweettarts that were about to enter Disney World.
Initially, I didn't "get" why this group (who, along with me, were visiting as guests of Wines of Australia) was so amped up for a winery visit. I knew Henschke made very, very god wine, but so what – a lot of producers make very, very good wine. There was, of course, that thing about Hill of Grace, clocking in at $600 or so a bottle, but I'd had plenty of expensive wine that didn't live up to the billing on its price tag and so I was actually firmly in the "skeptically optimistic" territory about tasting it that day. What the hell was wrong with these people?
But here's the thing about good Sommeliers, particularly those from the big drinks like Boston and New York: they have access to world's most exclusive wines that far exceeds their pay grade levels. It's more intimate access than most of us get, and often it means that they enjoy an understanding of the world's best wines that few others can readily grasp for having simply lacked the experience – and I include in that unlucky majority most pro wine critics, because they don't have wealthy patrons ordering the better vintages of the world's most difficult-to-obtain juice several times per night, as the somms do (depending on what rich-and-famous clientele might be forking out the cash for the good stuff that night on the floor).
[ Editor's note: My favorite such story doesn't involve drinking wine at all: as one of my newfound somms told me, he once served a group that included Robert Downey, Jr. After offering Downey the wine list, before he could finish his opening sentence Downey cut him off: "Oh, no, no, no, no NOOOOOO… take that away… we would tear this place APART." ]
And so it turns out that the somms were all justified to have been so giddy, because I was about to be schooled – big-time – in what it really meant to have sommelier-level access to one of the world's finest fine wines…