Too much of a good thing, can, in fact, be had, especially when you're talking about wine books; the sight alone of which used to bring me great pleasure but now fills me with a OMG-I've-got-term-paper-due-soon type of dread because I've not so much as glance at most of them let alone reviewed them.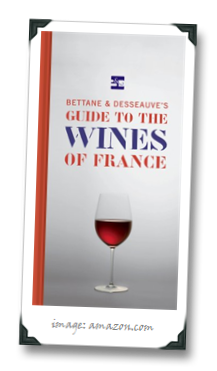 First off, wine books tend to be weighty – as in, literally weighty, heavy, and requiring a lot of storage space. In the case of my current stock of wine book samples, they are taking up an increasingly alarming percentage of my office floor space, as they sit in grim admonition of my incapability to keep up even a modest a review schedule… MOCKING ME WITH THEIR SILENCE!!!
Anyway… I've been making a (half-hearted but) concerted effort to chip away at the wine book sample library that has now grown out of my floor space, and so picked up the nearest to my desk chair, which happened to be Bettane and Desseauve's Guide to the Wines of France By Michel Bettane and Thierry Desseauve (about $25 at Amazon.com).
Michel Bettane, France's most recognizable wine critic, is (I'd argue, anyway) prone to pontification (something I noted when hearing him speak last year in Cahors). He lives up to that  reputation in this new guide – which in-and-of-itself is a capable, handy abd well-researched reference on a wide swath of French wine.  It's in the guide's Frequently Asked Questions section that the pontification is on display, when the authors directly address the question, "Can a wine critic's opinion really be trusted?"
In this case, Bettane and Desseauve's Guide to the Wines of France is not just weighty in heft, but also in tone; and the answer it offers to that potentially deep query is alternatively defensive, poignant, and downright… odd…