Last week, I wondered aloud (on twitter) whether or not anyone out there cares if a winery uses cultured yeasts instead of wild yeasts.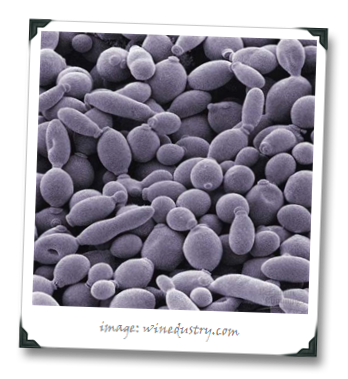 The feedback from the twitterati is included below after the jump (if you chimed in already via twitter, your response may be listed for all of the 1WD faithful to see – don't say I didn't warn ya!).
The short (and grossly oversimplified) answers to the question, by the way, seem to be "Yes!" for wine geeks and "No, who cares as long as the juice tastes good!" for the majority of people, based on the twitter responses that I received.
The topic of wine yeasts, and why they seem to touch off a hot-button reaction among wine pros and the geekier of wine aficionados, requires a bit of a primer, because to most wine drinkers, this is gonna be some pretty esoteric shiz.
During my last trip to Napa, I stopped into Chimney Rock for some barrel samples tasting (that's samples of wines from barrels, not tasting samples of barrels) and spent a few hours geeking out over all things wine-related with the affable Elizabeth Vianna (CM's winemaker who last week was promoted to GM).  Elizabeth is open, honest, and easy to get along with, and she's not shy when it comes to expressing her opinions.  And yet, when she was explaining the winemaking process behind each of Chimney Rock's wines, she became almost apologetic when she mentioned that they – gasp! – inoculate their wines with cultured yeasts! 
Imagine, the audacity!  The HORROR!!!…