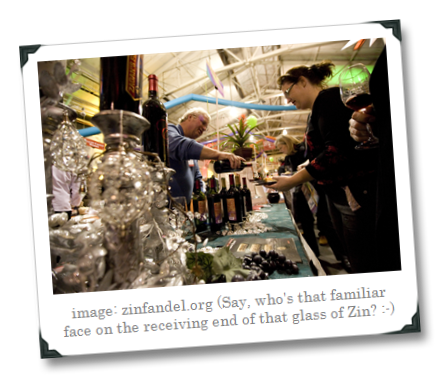 Has it really been twenty years since ZAP (Zinfandel Advocates and Producers) first held their modest gathering, spearheaded by Ravenswood founder and Sonoma wine icon Joel Peterson (for a glimpse into Joel's head, check out our interview from Dec. 2008)?
Believe it or not, ZAP's 20th Annual Zinfandel Festival is, indeed, taking place Thursday-Saturday, January 27-29, and tickets are now on sale. Like most wine events that have grown to become ginormous in size, folks tend to have mixed reviews of the event (or, put more accurately, mixed reviews of the attendees of the event) but some of the positive press comes by way of people for whom I have a great deal of respect, such as my adopted papa Charlie Olken – so there is certainly some fun to be had, and of course the opportunity to taste a sh*tload of Zinfandel from dozens of producers.
It's in that spirit that we've giving away 2 sets of 5 tickets each to two of the 20th Zinfandel Festival events – the Good Eats & Zin Pairing on Thursday, Jan. 27, and the Grand Zin Tasting on Saturday, Jan. 29 – and you can win just by leaving a comment on this post!
Details on how to win are after the jump. Just be forewarned that I'm not independently wealthy and so rather than transport winners from any worldwide destination to San Fran. via my 70-foot yacht staffed by vestal virgins, the winning peeps are on their own for any travel and expenses and the giveaway is open to U.S. readers only (sorry, loyal Estonian readers!).