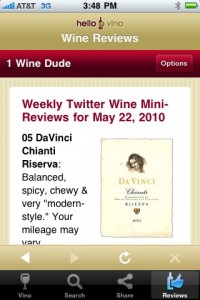 A strange thing happened to me recently.  Actually, it happened to 1WineDude.com, not to me.  And yes, I mean stranger than the normal level if strange on this blog.
I agreed to contribute content to a platform that I can't really access and probably won't use.
Specifically, I've let Hello Vino, the popular wine recommendation mobile phone application, have access to my wine reviews.
I'm part of a larger group whose reviews / recommendations are now appearing in Hello Vino.
It all feels a bit odd, since currently I don't own a phone capable of running the app., and in general I don't use quick wine recommendations (printed or otherwise) when shopping for wine at the store (I usually talk to the store employees about the available wines instead).
However, I was (quickly) convinced by the (compelling) arguments of others that having access to some of my reviews and recommendations would be valuable for the (many, many, many) folks who don't think and act the way that I do (i.e., a nice way of saying that they are sane and normal and I'm, well, not quite normal)…