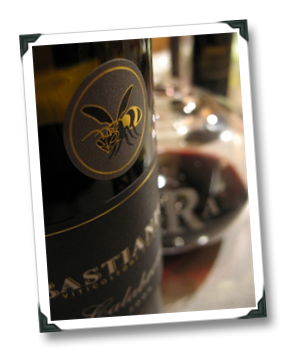 Usually I prefer to know when wine samples are coming to my door.  For the most part this has to do with the vagaries of logistics (will someone be around to sign for the package?), but just as importantly I prefer to know that the wine has some potential value for 1WineDude.com readers (you folks like that hard-to-find, more interesting juice).
Also, I need to find room in my basement, which is overrun with Styrofoam packing material that needs to be driven down to DE for recycling.  Either that, or I'm gonna build a huge Styrofoam wall, and then bust out of it and scare the living shit out of my dog…
Anyway, it's a really, really nice surprise when an unsolicited sample actually rocks the Kasbah and does have potential value for the 1WD crowd; when that random bottle that just shows up and causes my dog to absolutely freak out beyond all reason at the approach of the UPS truck (if you ever want to know what it's like to dislocate your shoulder, just walk my dog around my neighborhood during UPS delivery time) is all worth it.
Which is why I recently did a double-head fake after tasting the 2006 Bastianich Tocai Plus – a rare moment when the odd random sample provided true blogging serendipity. I dare say it was even worth all of the mad barking, as this wine offers a nice helping of Friulian ass-kickery…